Nobody likes being overcharged for services. The question today is, are you being overcharged by your TPA or carrier? Hello, my name is Michael Stack. I'm the CEO of Amaxx and there's this common, I think, feeling particularly by employers in the work comp industry, that they are in fact being overcharged by their CPA or carrier, their CPA has a bunch of services. You've got, you know, maybe triaged, maybe medical bill review, case management, peer review, et cetera. They've got a whole bunch of services that are being offered. Anytime the Account Exec  says, you know, hey, I know you're having this, uh, this challenge maybe with, um, getting some of your employees back to work. We have a great peer review physician service that can help with that or reviewing your claims or physician case review, et cetera. It's often received with skepticism because you know, the TPA makes money off offering those services.
Are You Offering This Service to Help? Or Make More Profit?
So are you offering that to me just because you want to drive up your profit or are you offering that to me? Because it actually is going to benefit me. And that's an often dynamic felt by many employers evaluating services of their TPA or carrier that's offered to them. Here's a question that I wanted to ask when you're evaluating these services first don't necessarily disregard it just because a key TPA or carrier is going to make money for them. That's often a skeptical response that you feel like you're being sold to many times. Those services can help you out quite a bit. But here's the question that I want you to ask one. I want you to get a better understanding what the service is, be open to understanding it. And then also ask what the ROI is. Some of the best CPAs and carriers have tons of data. 
Trust and Track Record of Service
They have tons of data and they should be able to tell you, what is the track record of this service? Is this something we should roll out in a pilot when we're talking about in developing this claims handling partnership relationship, that level of trust is going to dictate oftentimes how this is received. If it's a high level of trust and you understand from your account exec that you need to use, you know, field case management more because of X, Y, Z reason, if there's a good reason for that. And there's a high level of trust, there should be right. If there's a low level of trust, obviously you're going to want to dig into that a little bit more and work on building that level of trust so that you can work together in tandem toward achieving improved injured worker outcomes and driving down injured worker costs don't necessarily receive those requests with full skepticism.

Be Open to Ideas, Ask the ROI
Be open to the ideas, ask what the ROI is, roll it out as a pilot, if necessary and evaluate it for yourself. Again, my name is Michael Stack. I'm the CEO of Amaxx. And remember your work today in workers' compensation can have a dramatic impact on your company's bottom line, but it will have a dramatic impact on someone's life. So be great.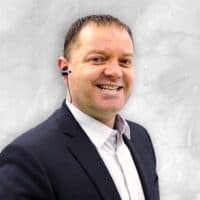 Author Michael Stack, CEO Amaxx LLC. He is an expert in workers' compensation cost containment systems and helps employers reduce their workers' comp costs by 20% to 50%.  He works as a consultant to large and mid-market clients, is a co-author of Your Ultimate Guide To Mastering Workers Comp Costs, a comprehensive step-by-step manual of cost containment strategies based on hands-on field experience, and is the founder & lead trainer of Amaxx Workers' Comp Training Center, which offers the Certified Master of Workers' Compensation national designation.
Contact: mstack@reduceyourworkerscomp.com.
Workers' Comp Roundup Blog: http://blog.reduceyourworkerscomp.com/
©2021 Amaxx LLC. All rights reserved under International Copyright Law.
Do not use this information without independent verification. All state laws vary. You should consult with your insurance broker, attorney, or qualified professional.